Death by Grace. Might as well draw little X's on my eyelids. Dunzo. 
Another Barbells for Boobs Event in the Books
Another year of fundraising for breast cancer awareness so that women and men under the age of 40 can have the chance of early detection. Everyone deserves the right to know. Every year my gym, CrossFit 310, holds a Barbells for Boobs event where the athletes, from our gym and local gyms, are welcomed to do Grace for time in an effort to raise more money for this amazing cause. We each individually raise funds as part of the gym's team, and we do a great job every year. As mentioned before, this cause is close to my heart because my amazing, fashionable, sweet 94 year old grandma once battled and beat breast cancer. Look at her, so precious. And yes, she is 94 years old in this photo! No one would EVER guess. So fabulous. I could only hope to look like this at her age. 
My fundraising is one part of this for me every year, but the other, is the training involved to do Grace, 30 Clean and Jerks for time, in front of a lot of people. I'm NOT a fan of doing things like this in front of people. Not a fan of people watching me slowly die. Yes, I love barbell work, but on my own terms. But, nonetheless, I still do this every year. And it makes it all that much better doing it alongside my swolemate, my ninja, my Asian sister (long story - as you know, I am not Asian). We both PR'd our Grace time by about a minute! Last year I got 6:30 and this year, I got 5:40.
Barbells for Boobs - Save the Boobies
Every year, during the month of October, for Breast Cancer Awareness, I raise funds to help detect potentially life-threatening breast cancer occurrences. This one is dear to me because my 94-year-old grandmother is a breast cancer survivor. She is a champ and an inspiration to me everyday. I want to help in any way I can so that others can receive early detection and fight on like my grandma did. Everyone deserves that chance.
Please consider making a donation of any amount on my fundraising page. For every $80 raised, ONE more person will know if they are living with breast cancer. Look at how adorable and hip she is!
But, if my adorable granny can't convince you to donate even just $5, maybe this sexy man can?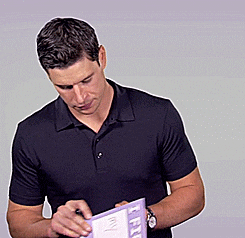 Me too, hot man, me too. 
Also every year in October, I support this cause by lifting up and putting down something heavy (a barbell loaded to 95lbs) thirty times while people watch at my CrossFit gym, CrossFit 310 in Redondo Beach. 
Donation of ANY amounts are appreciated and go DIRECTLY to this cause through their secure system. If you or anyone you know has been affected by breast cancer, please consider forwarding this to them as well.
Thank you, from the bottom of my crusty little black heart.
Glad I had a chance to drop in. Digging this way of doing inverted burpees. Who doesn't love donkey kicking during a WOD?
#crossfit #dropin #vacation #wod #desertcrossfit #palmdesert (at Desert CrossFit)
35lb plate carry run did me dirty today. The struggle was real.
#crossfit #wod #ouch #bruised #botharms #struggle #herowod #nuts #teamwod #sorryteam
So here I am in which what looks like I'm making out with the wall ball at the #OgarStrong fundraiser at @torrancecrossfit. 10ft line sucks. Over 70 reps sucks.
#crossfit #wod #fundraiser #ogar #strengthinnumbers #livefit310 #wallballs #fitness #fitblr #makeout #getlow #tcf #torrance @crossfit310 @kevinogar
This hurt day after delicious nomming but was necessary! Also, first time doing HSPU without any mats in a WOD (scaled to 10 reps)! The 53# kbs sucked. 16:52
#wod #crossfit #postnomfest #blackfriday #fitness #instafit #hspu #ouch #exercise #rainyday (at Crossfit 310)
Front squat 1RM PR at 160lbs!! Did a little wiggle coming up but I'll take it - been working on form. Happy to PR specially on a day when I can't WOD with everyone. #crossfit #crossfit310 #squat #frontsquat #strength #wod #dropitlikeasquat @crossfit310 thanks for filming @gburford
Oly classes are paying off! This is me at our 3rd Annual Barbells for Boobs event, and though I didn't get the time I was shooting for, I was happy with my form throughout Grace! This was during one of the last few reps. Much thanks to Koach Kris and Coach Cody Rice.
This is my amazing, breast-cancer-butt-kicking, 93-year-old grandma! Yeah, she's pretty rad for coming to support us at my box, CrossFit 310's Barbells for Boobs event this weekend.
My fellow Tumblrades, I am not one to ask of you for anything unless I feel strongly about it - such as for this cause. My dear 93 year old grandmother (Abuelita) is an amazing breast cancer survivor and what better way to honor that than to attempt to save as many boobies from going through what she (and millions of others) has gone through. Please help me support Barbells for Boobs by making a donation to my fundraising page. Every little bit counts. By donating you are helping women and men in need receive mammograms. The process is fast, easy and SECURE. 
If you can't donate now, please REBLOG this to help spread the word. 
In support of all this, my gym, CrossFit 310, is hosting a Barbells for Boobs event in which all team members will be doing the WOD, "Grace": 30 Clean and Jerks.
Look at that sexy palm! Dang AMRAP.
#crossfit #crossfitproblems #ouchie wristwrap #batgirl #handcare #igfitness #fitblr #instafit #amrap #wod #livefit #livefit310 @crossfit310
2013 CrossFit Games Recap
This is my third year in a row going to the Games and it is so different every time. The only thing that really remains the same is extremely hard working athletes giving it their all. First, me and my ladies:
Highly dislike the segregation of Silver and Gold passes. Also highly dislike you can't purchase single day passes. The live ESPN streaming somewhat made up for the diss to the po' folk.
The half-marathon row was a snoozer for the spectator.
Broke my ole heart to see Froning struggle in the pool event - but it also made me happy because that was a true testament to the fact that he (or any athlete) is not unstoppable.
Legless rope climbs make me shudder. I pray to the CF gods that we won't see any of those programmed at our box. Otherwise, hey scaling, how you doin'?
Naughty Nancy looked like pure endurance hell. Dare I say it looked like the OHS were the "break" to breathe after running? But then again, hello trying to run with dead legs. Smdh.
The "Worm" made me think of what wine I should have that night because of the cork resemblance. 
Insanely mind boggling to see the beast weight these ladies are throwing up overhead in the Clean & Jerk Ladder. 
Lucas Parker is so mechanical and magical. He is on-point with his form for every single lift he does. I think his beard holds secrets.
Lucas Parker and Aja Barto going head-to-head on the C&J Ladder proved that there is no ideal height, shape or size for an athlete to be an amazingly strong olympic lifter.
A bit shocking to see the usual "top ladies" (Camille and Clever) not even break the Top 10. I sit and wonder how different (if at all) it would have been had Annie T and Julie Foucher competed.
Khalipa is amazing. One of the vets and still on top of his game. He got so close, so very close. Would have been rad to see him get his second title after five years.
That guy in that one team with the broken finger that did a one-armed snatch along with a deadlift, pull-up, C2B and a clean in the Pig event to keep his team in the running. All with essentially one-arm! Or 7 fingers at the most. All for the sake of his team. True team player.
I wish I had hundreds (or thousands) of dollars to spend on all the goodies there like more socks, tanks, oly shoes, headbands, etc.
Motocross and BMX demo at the Games? Really, CrossFit? 
Tyga performing at the Games? Come on, Crossfit. You're drunk, go home.
And Froning takes the three-peat Fittest Man on Earth title! You all know I have a soft spot in my heart for my hubby but I did secretly wish that Khalipa would have taken it.
Sam Briggs, Fittest Woman on Earth! She is a legit beast. Kind of scares me a bit. I'm curious if she would have taken it if Annie T and/or Julie Foucher would've competed. Guess we'll never know until next year!
There you have it, folks. My third year at The Games. The experience keeps getting so different year and I'll be honest, not necessarily for the better in my opinion. I know the Games will never be like they were because it keeps growing, but i do miss when it wasn't so commercialized and such huge a production like in 2011. 
Check out my squat clean face. First time hitting the Other Total and it was a good time. I PR'd all across - granted some skills I haven't gone for a 1RM in a while. But happy with results!
@crossfit310 #crossfit #wod #pr #igfitness #fitblr #olympic #strength #weightlift #getsome #squatface