Death by Grace. Might as well draw little X's on my eyelids. Dunzo. 
The barbell life is rough.
Another Barbells for Boobs Event in the Books
Another year of fundraising for breast cancer awareness so that women and men under the age of 40 can have the chance of early detection. Everyone deserves the right to know. Every year my gym, CrossFit 310, holds a Barbells for Boobs event where the athletes, from our gym and local gyms, are welcomed to do Grace for time in an effort to raise more money for this amazing cause. We each individually raise funds as part of the gym's team, and we do a great job every year. As mentioned before, this cause is close to my heart because my amazing, fashionable, sweet 94 year old grandma once battled and beat breast cancer. Look at her, so precious. And yes, she is 94 years old in this photo! No one would EVER guess. So fabulous. I could only hope to look like this at her age. 
My fundraising is one part of this for me every year, but the other, is the training involved to do Grace, 30 Clean and Jerks for time, in front of a lot of people. I'm NOT a fan of doing things like this in front of people. Not a fan of people watching me slowly die. Yes, I love barbell work, but on my own terms. But, nonetheless, I still do this every year. And it makes it all that much better doing it alongside my swolemate, my ninja, my Asian sister (long story - as you know, I am not Asian). We both PR'd our Grace time by about a minute! Last year I got 6:30 and this year, I got 5:40.
Barbells for Boobs - Save the Boobies
Every year, during the month of October, for Breast Cancer Awareness, I raise funds to help detect potentially life-threatening breast cancer occurrences. This one is dear to me because my 94-year-old grandmother is a breast cancer survivor. She is a champ and an inspiration to me everyday. I want to help in any way I can so that others can receive early detection and fight on like my grandma did. Everyone deserves that chance.
Please consider making a donation of any amount on my fundraising page. For every $80 raised, ONE more person will know if they are living with breast cancer. Look at how adorable and hip she is!
But, if my adorable granny can't convince you to donate even just $5, maybe this sexy man can?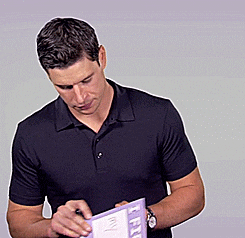 Me too, hot man, me too. 
Also every year in October, I support this cause by lifting up and putting down something heavy (a barbell loaded to 95lbs) thirty times while people watch at my CrossFit gym, CrossFit 310 in Redondo Beach. 
Donation of ANY amounts are appreciated and go DIRECTLY to this cause through their secure system. If you or anyone you know has been affected by breast cancer, please consider forwarding this to them as well.
Thank you, from the bottom of my crusty little black heart.
How My Relationship With Food Has Grown Up Beyond Paleo
Brace yourselves folks, you're in for a long one. Let me first begin by saying that this is NOT intended to bash or talk Paleo down. I'm just going over MY experience with it over some years. I know a lot of people that it has worked for and do great on it. We're all different ya'll.
Some of you have been following me since the infancy of my blog which is now about five years old…
…effin old. It began with calorie counting and circuit training on my own that yielded some weight loss. Soon after I moved onto Primal, then Paleo and CrossFit. I thought it was the way to go for sure. Why wouldn't I? Clean, non-processed eating must equal the healthiest way to go. Seeing everywhere that with Paleo you don't have to count calories as long as you're eating Paleo. That it's "hard to gain weight" if you follow Paleo. 
Mind you, when I began Paleo eating, it was at its infancy - almost five years ago. There were only a handful of Paleo bloggers out there and research from a few sources. Over the years I slowly put on some of the fluff that I had lost when ironically, my goal had been (and still is) to get leaner and stronger. And let's be honest…
But that wasn't happening. I was dumbfounded. In CrossFit, I made some progress, but not really at the pace I would have expected. Gains here and there, bodyweight work became easier but there are things I feel I should have achieved in the last four years of CrossFitting that I wasn't accomplishing. I mean, come on, I was doing CrossFit 4-5 times a week, eating all non-processed foods, low carb at below 100g - which according to a lot of "research", is the sweet spot for weight loss on Paleo eating. I was determined to make it my "lifestyle". I engulfed myself in it. But, little to no changes were happening with my body. I was convinced something was medically wrong with me and effecting my metabolism. Frustrating. 
After being strict Paleo for a solid nearly four years, I finally took a look into my eating habits. Clearly, I might be a little insane.
"Insanity: doing the same thing over and over again and expecting different results."
Yes, I was eating non-processed foods and keeping it lower carb (that sweet spot ya'll), but maybe my portions weren't quite right which is when I looked more into Paleo Zone. In case you don't know, the Zone diet is comprised of "blocks" all based off of macros: carbs/protein/fat. Each meal should be a balance of all three macros. Each food you select will fall into the category of either one of the macros. So the macro that it is highest in, is what block it would be. For example, if a protein bar is 28g carb, 9g fat and 10g protein - you would consider this a carb block, since it is highest in carb. And going the Paleo Zone way, is obvious - the foods you choose are all Paleo options to fall into these blocks. This was touted as the "athlete" way to eat throughout CrossFit. Me, being desperate for a solution, went all in.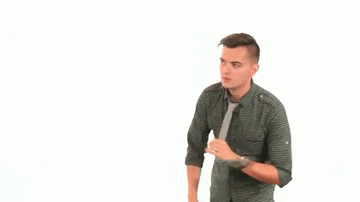 My body was ready. For accuracy, most things needed to be measured or weighed in some way, which was new to me at the time. It took me about two weeks to adjust and get used to it. Fast forward to three full months of strict Paleo Zone and my results? A measly 3lbs or so. I didn't feel or look leaner. And I felt like I was eating SO MUCH. The formula had me at three 3-block meals with two 1-block snacks per day. To put it into perspective, 4 cups of raw spinach equals ONE block of carb. FOUR CUPS WEIGHED. Just ONE carb block, meaning, per meal, I still needed to have two more carb blocks (and the remaining blocks).
Errday. Feeling discouraged, I went back to eating Paleo and just minded my portions more and loosely tracked zone blocks. Felt discouraged for quite a while after that. Thankfully, I generally did not resort to this:
For fear of weight gain, no real "cheat days" (aka full binges), just the occasional "cheat meal". For a while there, I waved my white flag in defeat and decided this is my life for now until I get my medical situation figured out. Until I saw a few photos of myself and was honestly pretty mortified.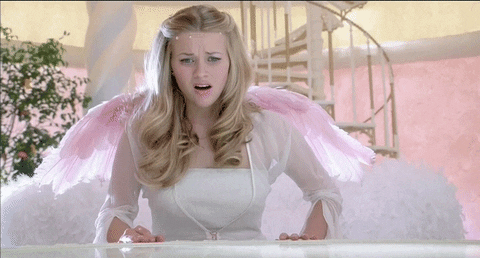 Puffy galore. Just so….soft. Fluffy. Squishy. Anyone who didn't know me would never assume that I train five times a week. No one would think I'm an athlete. I had to do something. Enter: the nazi diet. I won't go into that again, if you want to know, go to my post about it here. And then how I found about flexible dieting. And haven't looked back since. It is also known as IIFYM (If It Fits Your Macros), Eat to Perform or Eat for Life. All of these have a very similar base: calculated macros for your goals. 
Not only am I finally seeing changes in my physique as you can see here, here,  here and here - but there are GAINZ happening people! In a little over a month that I've been flexible dieting I have:
Done strict ring dips in a WOD for the first time 
6 Unbroken HSPU (kipping) PR 
PR'd my Open WOD 14.2 score by 23 reps
PR'd my Back Squat by 10lbs at 210lbs
PR'd my Split Jerk 20lbs at 155lbs
First strict HSPU at a DEFICIT this morning
Strict pull-up max reps increased
And I'm excited for what's to come. Who knew that eating a lot more following the right macros was the key for me? Wanna know the best part about flexible dieting? Regaining my love for food and not seeing any food as "off-limits" or "dirty". Yes, there are foods that I don't think are worth my macros, and that is totally fine. This way of eating gives you that choice. Gives you that flexibility. If I want a fully stuffed Chipotle burrito, I will have one, but will plan for it and make it fit my macros.
So, even though sometimes I feel like this tracking my macros on MFP: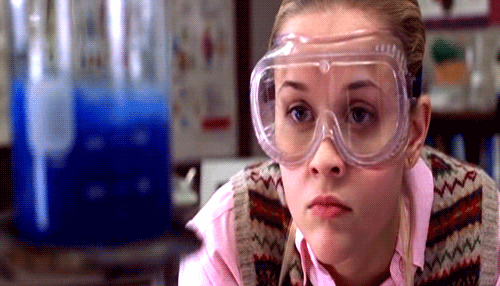 And it sure does take some practice, planning, calculating, thinking, meeting your macros. The end results so far have been worth it. Because I can do this:
And zero fucks are given.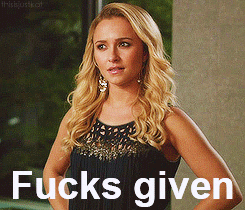 In case you're curious, I was down a measly 3lbs after 4 weeks of nazi plan, and down an additional 7lbs after 4 weeks of flexible dieting AND making gainz. No gainz were had on nazi plan. 
The only downsides I'm dealing with right now are some bloating (yes, I'm having more than enough fiber, sodium is low and drinking lots of water), but I'm working on getting that figured out. Other than that, things are pretty great in that department. The only remaining underlying issue is my post nasal drip that I still have every single day, which blows. I was hoping flexible dieting in some way would heal that along with the other things it healed, but that hasn't been the case. 
Don't get me wrong. I know plenty of people that have had success on Paleo. It just didn't work for me over the course of over four years. 
Having said all that…this is just the beginning. I'm not done. There is much more to come. More results to come. More gainz to be had.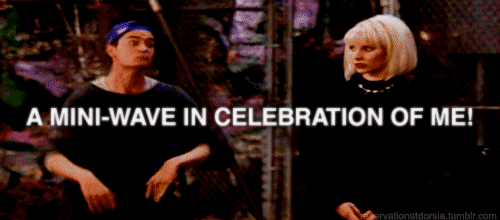 Rita Benavidez
WCW: One of my olympic weightlifting idols right here. She is lean, super strong and beautiful. If I had to pick someone to chase as far as strength, size and what she has accomplished, she'd definitely be in my top three. 
BREAKING NEWS
For the first time since beginning flexible dieting, I am hungry after my post-dinner snack. Everyday prior to this I've actually felt very full before bed but tonight I want mooooooore. Wah. I'm told that it's a good sign that my metabolism is on the mend and my metabolic capacity is increasing.
Couple nights ago: Al dente pasta, marinara drizzled with mozzarella cheese and couple small Brazilian bread bites. Mmmm.
Insider info: the pasta is low carb (Carba Nada - still really good) and the cheese is fat free. Not the same, I know (re: cheese) AND more "processed" but I needed the gooeyness but was totally #povertyfats struggle over here.
Drooooool. Had a light lunch so that left me some pretty decent macros to work with for dinner that resulted in this epic pile of baked fries, beans, shredded chicken breast, cheddar cheese, salsa verde guac, Pico de gallo and dollop of plain Greek yogurt - all baked.
1RM Back Squat PR at 210lbs! Not only did I not expect to even match my old PR today, but definitely didn't expect to pass it by 10lbs. Unexpectedly good weightlifting day. I know I have more in the tank but maybe when I'm prepared for it, haha.
I'm also thrilled that not only am I NOT losing strength while on a reverse cut (cutting weight while increasing food intake) but I'm making GAINS. Flexible dieting FTW.
Glorious Lazy Sundays
Yep, I absolutely love days when I can naturally wake up without an alarm because they are so rare. But those days have come where "naturally waking up" means like 8:30 a.m. these days - goddamit, I'm old. Another reason I love these days is because I get to take my time on making my breakfast, like this: